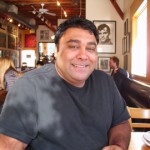 I had the opportunity to interview Aditya Ezhuthachan when he was Head of Development for Palomar Pictures.
Aditya is now an entertainment attorney and screenwriter.
At the time of this conversation, he worked for Sigurjon Sighvatsson, a veteran producer with over 40 feature films and television series to his credit, including BROTHERS, ARLINGTON ROAD, WILD AT HEART, KALIFORNIA and BASQUIAT.
Offering rare insight for aspiring screenwriters, Aditya was kind enough to share his honest perspective and advice.
In Part 1 of the interview we discuss the craft of screenwriting from a development exec's point of view. In Part 2 we discuss the business side of screenwriting, some of the 'dos and don'ts' and what to expect if your script is accepted by an independent movie producer.
Part 1 and Part 2 are both available on Talentville.com.  Talentville is a resource and on-line community for screenwriters and the brainchild of Final Draft co-creator, Ben Cahan.
To read My Breakfast With Aditya, Parts 1 & 2, visit Talentville University and search "Aditya."- Laurie Lamson