A few mysteries – perfect for beach reading:
The Stardom Affair (Neil Gulliver & Stevie Marriner)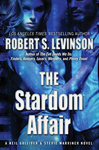 by Robert S. Levinson (Now Write! Mysteries contributor)
Five Star Publishing (April 2016)
Neil is summoned to the apartment of actor Roddy Donaldson, leader of the "Diapered Dozen" gang of teenage movie stars, by condo manager Sharon Glenn. Roddy is in bed clinging to life alongside two dead girls, no memory of who they are or how they got there. Evidence points to him as their killer.
At the urging of Roddy's mother, a prominent casting director, Neil chases after the truth, encountering a motley cast of suspects.
More bodies fall and Neil faces an ugly death before the killer of the two girls is revealed in this fast-paced mystery-thriller by an author who knows Hollywood's many sins and secrets from the inside out.
A Death in the Family: A Detective Kubu Mystery
 By Michael Stanley (Now Write! Mysteries contributor)
Minotaur Books (Oct. 2015)
Set amidst the dark beauty of modern Botswana, A Death in the Family is a thrilling insight into a world of riots, corruption, and greed, as a complex series of murders presents the opera-loving detective with his most challenging case yet. When grief-stricken Kubu defies orders and sets out on the killers' trail, startling and chilling links emerge, spanning the globe and setting a sequence of shocking events in motion. Will Kubu catch the killers in time?
The Secret History of Las Vegas
: A Novel by Chris Abani (Now Write! Fiction contributor)
Penguin Books (Jan. 2014)
Before he can retire, Las Vegas detective Salazar is determined to solve a recent spate of murders. When he encounters a pair of conjoined twins with a container of blood near their car, he's sure he has apprehended the killers, and enlists the help of Dr. Sunil Singh, a South African transplant who specializes in the study of psychopaths. As Sunil tries to crack the twins, the implications of his research grow darker. Haunted by his betrayal of loved ones back home during apartheid, he seeks solace in the love of Asia, a prostitute with hopes of escaping that life. But Sunil's own troubled past is fast on his heels in the form of a would-be assassin.
The Perfect Comeback of Caroline Jacobs:
A Novel by Matthew Dicks (Now Write! Mysteries contributor)
St. Martins Press (Sept. 2015)
A heartwarming story told with Matthew Dicks' signature wit, The Perfect Comeback of Caroline Jacobs is a deceptively simple novel about the ways in which our childhood experiences reverberate through our lives, and the bravery of one woman trying to change her life and finds true understanding of her daughter, and herself, along the way.