Two-Time Now Write! Contributor: Christine Conradt
Christine Conradt is a Nebraska native living and working in the greater Los Angeles area.  She's a seasoned screenwriter and producer, the "Queen of Lifetime," best known for BETRAYED AT 17 (2011), A NANNY'S REVENGE (2012), SUMMER MOON (2009) and THE PERFECT TEACHER (2010.)
With nearly 50 produced writing credits, Christine received her Bachelor's degree in Screenwriting from USC's School of Cinematic Arts.
Intent on elevating the crime thrillers she was becoming known for, Christine went back to grad school to receive a Masters degree in Criminal Justice from Boston University, where she focused on cybercrime and juvenile delinquency.
"One of the things I really found interesting in my criminology studies was this notion that the anonymity of the Internet has created both crimes and criminals that never previously existed. Because people can hide behind a screenname, they say and do things online that they never would do in person. For some, the advent of the Internet meant the freedom to do things without the consequences you'd expect to face if you did them in the real world."
THE BRIDE HE BOUGHT ONLINE Tackles Cyberbullying in a Unique Way
Based on her own spec script, THE BRIDE HE BOUGHT ONLINE is Christine's directorial debut, set to premiere on Lifetime Network on July 18, 2015 (click Lifetime link for more info and full airing dates).  The film was produced by Reel One Entertainment in association with Shadowland.
Not all TV movies have a message and the ones that do all too often come off as poorly-veiled preach-fests intent on instructing us on how to live our lives. But THE BRIDE HE BOUGHT ONLINE tackles a very topical issue in a refreshingly unique way. The film makes a serious comment on cyberbullying in a high-intensity, surprisingly dark thriller.
Starring Anne Winters, Lauren Gaw, and Annalisa Cochrane, the story follows three teens who create a fake profile on an international dating site to gather fodder for their increasingly popular joke blog. They soon engage in conversation with a lonely, unstable computer programmer named John Bennett (played by Travis Hammer) and the prank evolves from a phishing scheme into all-out cyberbullying. Although the theme of online anonymity cleverly crops up in multiple storylines, it never comes off as exhortative.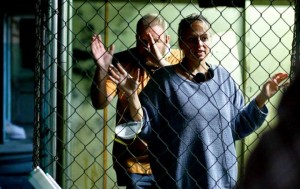 "The empowerment the girls feel from gaining online followers who encourage them to continuously top their last prank, their inability to empathize with a nameless victim, and even John's belief that he's in love with a girl he's never met in person, but trusts he knows intimately from their online chats, all illustrate different dangers of abdicating personal accountability online," Conradt explains. "Some people see the Internet as a scary place trolled by predators, but sometimes the creepy ones aren't who we think they are and we all have the ability to become predators if we want."
Christine Shares Her Wealth of Knowledge and Experience
Christine contributed two highly usable exercises to the Now Write! series: "The Scene That Doesn't Exist" can be found in Now Write! Screenwriting and "The Eleven Tenets of Fear" is in Now Write! Science Fiction, Fantasy, and Horror.