Write With Creativity, Clarity, and Confidence
Compassionate and Savvy Story and Screenplay Support: Consultation, Coaching, Editing and Proofreading with Now Write! Editor and Award-winning Screenwriter Laurie Lamson
"The coverage on my screenplay was spectacular!" – Raffaele Marraffa, writer and producer

"Laurie is an excellent editor and a pleasure to do business with. Supportive and completely professional."
– Colleen McGuinness (writer/producer on 30 Rock, Forever, Friends From College and About A Boy; contributor to Now Write! Screenwriting)
If you can think and talk, you can write.
I don't believe writing is a rarified skill.  Sometimes the most compelling material comes from "untrained" writers. And professional writers struggle with the same things novices do:
finding clarity about your story and what you're trying to say

trusting your own voice

allowing yourself to write about uncomfortable subjects

connecting with emotions and telling emotional truth

fear of criticism and taking it personally

keeping momentum going when your inspiration lags

knowing or finding out the necessary elements of a great story

learning the conventions of your writing area/genre
Take your writing to the next level.  
What sets professional writers apart is that they courageously grapple with all the above – without giving up.  They learn to engage their passion and get out of their own way to share their unique gifts through writing.
Working with me, my fellow writers learn to be less critical of their work and open up realms of possibility, develop their voices, become more productive and effective in their writing.  I've been honored by how much screenwriters and authors have valued my input, which helped them take their projects to the next level – and to completion.

Now Write! Services
Special 1/2 hour Story Consultation:
A cost-effective way to help get you firmly and confidently on track.  By discussing your story and answering questions to help clarify what it's really about, we identify strengths, pinpoint weak areas, and discover what you need to help your idea fulfill its potential.  This process will also help you more effectively 'pitch' your story or script to others.  ($30)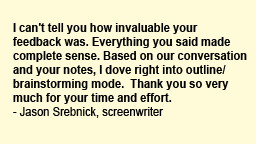 Consultation and Coaching:
Compassionate, thoughtful feedback and encouragement to help you fulfill the promise of the story you want to write.  ($55/hour; package of 5 hours for $250; 10 hours for $450.)

Book Editing, Copy Editing and/or Proofreading:
Without a little polish, even the most brilliant ideas and excellent writing can fail to reach full potential.  Light to heavy copy-editing and proofreading (depending on what's needed and desired) helps your work to shine.  ($65/hour; package of 5 hours for $275; 10 hours for $500; 20 hours for $800.)


If you're interested in Laurie's Now Write! consulting and/or editing services, please contact laurie @ nowwrite. net