Anti-Heroine is Now Write! editor Laurie Lamson's new scripted audio anthology/podcast series that offers a fresh take on the anti-hero archetype presented by JaZzyMaE Media.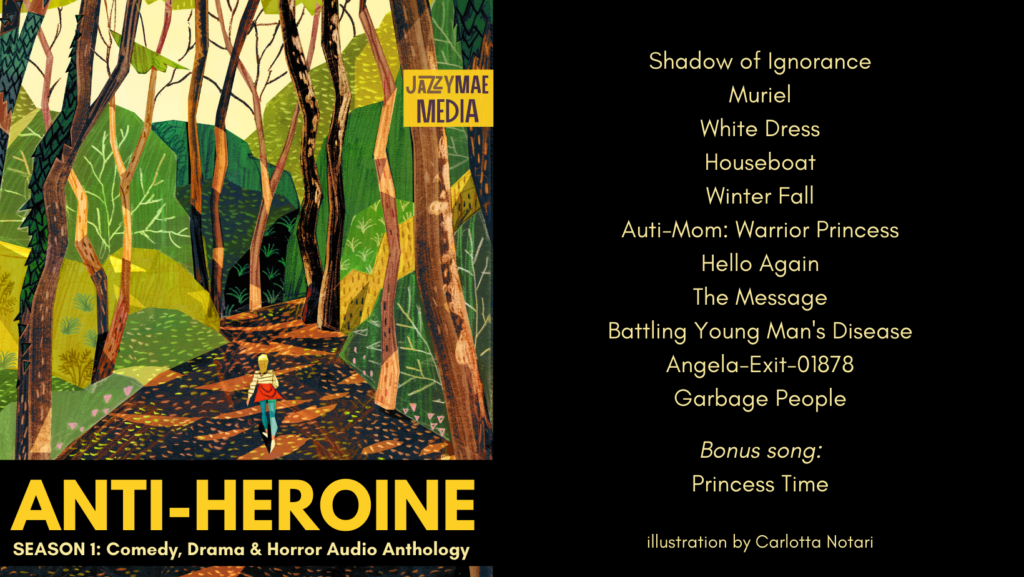 This eclectic mix of short comedy, drama, horror, and hybrid-genre "audio movies" have one common feature: the lead characters are all women, each with a bold or unconventional approach to life.
Sorry, not sorry – these ladies aren't always lady-like. Anti-Heroine is dedicated to an exploration of female experiences and points of view – good, bad and ugly… amusing, dangerous and transcendent – and rarely seen in the media.
I'm thrilled to be able to share this new series and I'm confident listeners will be entertained by the stories we've compiled.
Contributors are multi-faceted writers and content creators: Erin Austin, Melanie Chartoff, Chad Eschman, Julie Hoverman, Cindy Marcus, Lawrence Riggins, Laura Shamas, and series producer, Laurie Lamson.
Julie Hoverson's "Shadow of Ignorance" is available on the JaZzyMaE Media Anti-Heroine page, as well as Spotify, Anchor, Apple Podcasts, and soon on other major platforms. Laurie's "Muriel" will drop next week, with more to follow!
Need Podcast Guest/s?
If you or someone you know is looking for articulate and creative podcast guests, why not invite Laurie – and maybe one of her Anti-Heroine contributors?
She loves discussing creative writing, screenwriting, scripted audio, cultivating creativity, and anthologies such as the Now Write! series.
Check out the article Audio Renaissance with Vocal Resonance by Laurie Lamson and Amrish Shah.