The Legendary Harlan Ellison
Harlan Ellison left the earthly plane on June 28, 2018. He was a beyond-prolific writer and legend, and probably one of the most notorious contributors to the Now Write! series. When I consulted film industry friends on approaching Mr. Ellison about contributing to Now Write! Science Fiction, Fantasy, and Horror, the response was invariably, "Don't bother."
Harlan's philosophy: "We're all stupider than we should be."
Harlan had a reputation for being, er, um, ah, difficult. He once sent a dead gopher to a publisher (an incident he recounted with glee during my visit.) He's also known in the entertainment industry for being lawsuit-happy, most famously settling out of court with James Cameron over Cameron's admitted use of one of Harlan's Outer Limits episodes for TERMINATOR.

Despite the warnings, I was undaunted in my quest to include him in the book. Still, I was a little surprised when he graciously agreed to allow a reprint of an article he wrote in the seventies, with the new addition of a writing exercise that would make it fit for our Now Write! format ("First, There Was The Title" in the Theme and Meaning chapter.)  
I honored his specifications – including the registered trademark symbol after his name – and we never had a problem.

After the book came out we had a phone conversation in which he gave me a lot of good advice as an editor. He then invited me to his home for a face-to-face visit – an offer I couldn't refuse.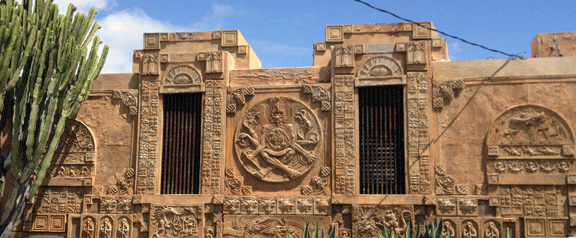 THE LOST AZTEC TEMPLE OF MARS
"Harlan's home, high in the hills above Sherman Oaks, is a work of art and a wonder to behold. My meager talent at tippy-tapping out words falls far short of coming to grasp with the idea of the concept of describing Harlan's home. Even Ray Bradbury would pause and frown in thought. This is Ellison Wonderland, and evidently, it has undergone a re-christening, as Harlan's address, as listed in _Contemporary Authors_ Vol. 46, New Revised Edition, 1995, reads 'The Lost Aztec Temple of Mars, CA.'"
(Quoted from his website, where you can find a lot more Harlan FAQs.)
MY VISIT WITH HARLAN
He had suffered a recent stroke, and I found Harlan physically weak, but mentally quite strong. He wasn't able to give me a tour but still allowed me to roam his domain, which really is a work of crazy art: the décor and mind-boggling collections of books, art and kitsch, custom ladders, odd-shaped rooms, secret entrances and Aztec exterior made this a fitting home for a one-of-a-kind eccentric genius like Harlan.
These pictures can't possibly do it justice, but may serve to give you some idea:

Harlan can quote from his thousands of stories and books, as well as rattle off how many of each glass, knife, comic book or action figure he's collected. Despite his recent stroke, the man's mind remains sharper than a steel trap, which he claims is both a blessing and a curse. I believe him.
During several hours of candid conversation we hit it off better than I expected, including an in-depth discussion of philosophy and relationships.
I learned he had a close friendship with Robin Williams, who he said was too gentle and kind to ever be at ease in the cutthroat entertainment industry.
He spoke glowingly of Roger Dean, designer and artist best known for fantasy posters and album covers for conceptual rock bands, and who shared a common experience of suing James Cameron – in Dean's case it was for his paintings being the inspiration for much of the look and feel of AVATAR.
Harlan also introduced me to Pen World Magazine, which we both sort of drooled over before his lunch arrived. I had been invited to stay but didn't want to wear out my welcome.
Harlan is a true character, a bit of a curmudgeon, definitely not the type to suffer fools. I'm grateful he didn't deem me as such – it was a surprising and memorable visit indeed!